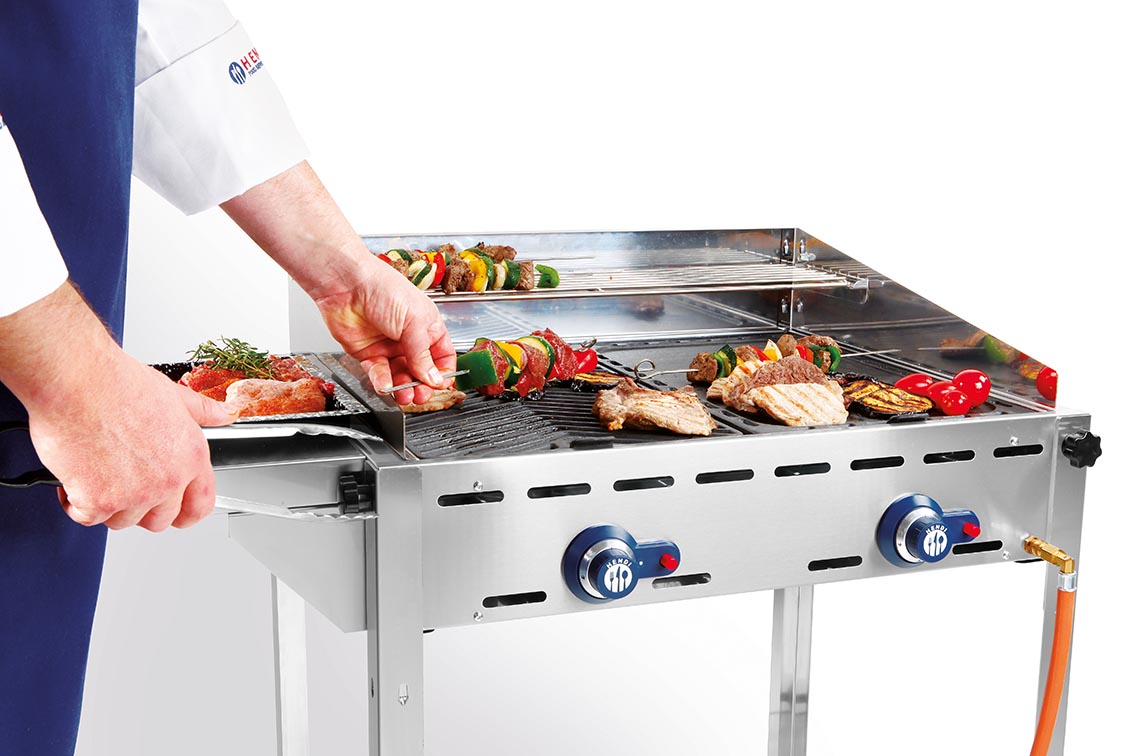 Hendi Gasbarbecues van XXLhoreca

Dat stukje vlees grillt bijzonder lekker weg!

De zomer is bijna echt in aantocht en dus staat u eerdaags weer handenwrijvend achter de grill in de tuin. Tenzij u natuurlijk over een professionele keuken in uw eigen restaurant of hotel beschikt en dat handen wrijven, biefstukjes en sateetjes grillen overlaat aan uw chef-kok. Voor beide gevallen kan een Hendi gasbarbecue uitkomst bieden. Het grootste nadeel van een gasbarbecue of grill zijn doorgaans de schoonmaakwerkzaamheden achteraf en dus heeft u een grill nodig die gemaakt is van allerlei duurzame materialen zoals RVS of chroomstaal. Daar hoeft u dus nooit meer de staalborstel overheen te halen. Sterker nog, staalborstels zijn uit den boze!

De ontsteking van een gasbarbecue
Hendi gasbarbecues zijn, naast het hoogwaardige materiaal waaruit ze zijn vervaardigd, ook zeer veilig. De meeste professionele Hendi gasbarbecues zijn voorzien van een pïezo- of elektronische ontsteking. Het verschil tussen deze beide ontstekingsmethoden zit 'm vooral in de snelheid en het gemak. Een pïezo ontsteking gebruikt een kwartskristal om 'mechanisch te ontsteken' en volstaat over het algemeen prima, maar een elektronische ontsteking gaat een stuk sneller en is inmiddels volledig ingeburgerd in de professionele horecaomgeving.
Een goed voorbeeld van een professionele gasbarbecue is de Greenfire barbecue van XXLhoreca. En bij deze barbecue komt het schoonmaken om de hoek kijken.  Dat wordt dan ook een stuk gemakkelijker gemaakt omdat bijvoorbeeld de branders geheel uitneembaar zijn. Deze gasbarbecue beschikt over een uistekende capaciteit is ook handig verrijdbaar en voorzien van een windkap zodat niet het minste zuchtje wind al voor problemen zorgt. Voordeel is ook dat de temperatuur handig te regelen is met vier robuuste regelaars aan de voorzijde zodat u naar keus een deel van het oppervlak ook kan afzetten of juist extra kan verhitten.

Veiligheid controleren
Uw gasbarbecue kan nog zo goed ontworpen zijn, het kan geen kwaad om de gasleiding en alle aansluitingen van tijd tot tijd goed te controleren. Een simpele methode daarvoor is om de gaslijn en alle aansluitingen in te smeren met zeepsop. In geval van bellen weet u dus dat er ergens een lek zit of dat er een koppeling niet goed vast is gedraaid.


Niet op gas maar op houtskool
Wilt u een betaalbaar houtskoolbarbecue als particulier aanschaffen voor die eindeloze zomerse dagen? Bij XXLhoreca treft u ook een zeer compacte en betaalbare Hendi houtskoolbarbecue. Het complete frame inclusief behuizing is compleet gemaakt van chroomstaal, een luxe uitgevoerde barbecue voor die lome zomerdagen die maar niet willen ophouden.

Meer weten over de Hendi gasbarbecues van XXLhoreca? Bekijk alle modellen en uitvoeringen.